Apply to this Job
JOB SUMMARY:
The ORL clinic is an Ambulatory Care unit providing care to both medical and surgical patients of all ages with Ear, Nose and Throat problems. In addition, care is provided to patients with Cochlear Implantation, Head and Neck Oncology, Upper Airway diseases, Pediatric airway disease, General ENT, (Rhinology, Otology and Laryngology) and VIP Protocol patients. There are fully equipped examination rooms, a Procedure room, a Conference room, Four Full Audiology Suites and a separate Audiology department and a Speech Pathology department. The ORL clinic serves approximately 800 to 1000 patients monthly.
The Audiology Clinic provides services to patients with hearing difficulties and provides screening, complex auditory assessments and monitoring of Cochlear implants. Monthly patients visits to this clinic are 800 to 1000.
The Speech Therapy Clinic provides services to patients with language and speech difficulties. Monthly patients visits is 200 to 400.
Total Monthly Patient Volume: 2,000 to 2,500
Procedures:
Tracheostomy/Laryngectomy/Speaking tube change/TEP
Myingotomy and ventilation tube insertion and Nasogastric tube insertion
Rigid/flexible Oro-nasoppharyngeal and upper airway Endoscopy
Electro-nasal cautery
Aural washouts and de-waxing
Removal of nasal/ear packs, changes of ear wicks/cavity or wound packs
Removal of drains, sutures, clips
Biopsies and specimen collection
Eye orbit dressings
Nasal splint removal
Post FESS nasal irrigation and toilet
Full ENT assessment
Pre-appointment ordering of tests and screening
Provision of orders for Home Supplies, Medication refills
Post appointment ordering of lab tests
Referrals to Home Health Care, Social Services, Sick Leave requests, Flight/Transfer requests
All ENT wound care
Vocal cord assessment
Epistaxis management
Nasal packing
Ear Packing
FNA appointment arrangement
REQUIREMENTS:
Bachelor's degree in Nursing or Nursing Diploma (NOTE: degree/diploma must be a minimum THREE-year, full-time, continuous NURSING curriculum; degree/diploma CANNOT be online or distance education) (Due to licensing requirements, shorter programs are NOT accepted; ADNs are not accepted)

Current nursing (RN) license in Canada or the United States, and
A minimum of two years current, full-time experience as a Registered Nurse, working in a mid- to large-sized acute-care hospital in North America, of which at least one year must be in the specialty area
Must have experience in one of the following areas: ORL, Audiology or Speech Therapy.
Due to visa restrictions, only FEMALE candidates will be considered at this time.

BENEFITS:
Tax-free income
Single-status contract
Accommodations provided
Relocation allowance
Annual Air Transportation
Medical coverage
More than 7 calendar weeks of vacation
NOTE: Because we are a North American based recruitment company we are only able to recruit citizens of Canada and the United States.
---
Apply to this Job
To apply to this job please fill out the form below, email your resume to hza@hziegler.com or call us at 1-800-387-4616. If you have already applied for a job with us, you only need to enter your email address.
---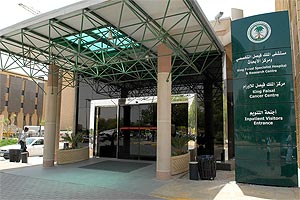 The King Faisal Specialist Hospital & Research Centre, Riyadh, with 894 beds (inclusive of 170 day beds), is the most high acuity tertiary-care centre in the entire Arabian Peninsula. Opened in 1975, it is constantly expanding and updating its facilities and services, and has the latest in technology and treatment methods.
The hospital specializes in the treatment of, and research in, cardiology, oncology, organ transplant, and genetic diseases. more
Riyadh, Saudi Arabia
The capital city, population about 5 million and expanding into the surrounding desert at a rapid pace. Has extravagantly fanciful buildings, malls, and towers.
The social life for Westerners is enriched by events at the foreign embassies in the city. After people acclimatize to the heat, they play sports: golf, tennis, hockey, soccer, sand-board.
Saudi Arabia, population of almost 27 million, with mountains and the Red Sea on the west coast, the Arabian Gulf on the east coast, and the Empty Quarter in the middle.
Mecca and Medina, the two most holy cities in Islam, are located north of Jeddah. The country's majority religion is Sunni Islam. Common recreational activities pursued by Westerners: desert camping, swimming and diving in the Red Sea, running, tennis, hiking in the mountains. more