Apply to this Job
Summary:
The Radiation Therapy Department service provides curative and palliative radiation treatments. Patients include: outpatient; inpatient; adult; pediatric; referrals from other hospitals.
Procedures include: Brachytherapy; cesium implants; pap smears; biopsies; wound care; trach care and suctioning; blood transfusions; IV infusions/hydration; medication administration.
Hours of operation:
* Saturday to Tuesday - 0730h-1700h
* Wednesday - 0730h - 1600h
Requirements:
Bachelor's degree in Nursing or Diploma in Nursing (NOTE: degree/diploma must be a minimum three-year NURSING curriculum; degree/diploma CANNOT be online or distance education) (Due to licensing requirements, shorter degree/diploma programs are NOT accepted)
OR

Associate Degree in Nursing of minimum two-year duration (Due to licensing requirements, shorter programs are NOT accepted, online programs are not accepted)
AND

Current nursing (RN) license in Canada or the United States,

A minimum of two years current, full-time experience as a Registered Nurse, working in a mid- to large-sized acute-care hospital in North America, of which at least one year must be in radiation therapy
Radiation therapy experience must include current experience with pediatric patients
Basic EKG Interpretation course required
BLS certification required

Note: Nurses must obtain both ACLS and PALS within first year of employment

Due to visa restrictions, only FEMALE candidates will be considered at this time.
Benefits:
Tax-free income
Single-status contract
Accommodations provided
Relocation allowance
Annual Air Transportation
Medical coverage
More than 7 calendar weeks of vacation
NOTE: Because we are a North American based recruitment company we are only able to recruit citizens of Canada and the United States.
---
Apply to this Job
To apply to this job please fill out the form below, email your resume to hza@hziegler.com or call us at 1-800-387-4616. If you have already applied for a job with us, you only need to enter your email address.
---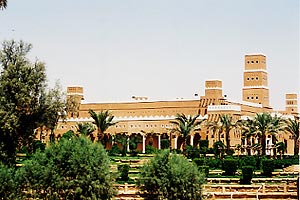 The King Faisal Specialist Hospital & Research Centre, Riyadh, with 894 beds (inclusive of 170 day beds), is the most high acuity tertiary-care centre in the entire Arabian Peninsula. Opened in 1975, it is constantly expanding and updating its facilities and services, and has the latest in technology and treatment methods.
The hospital specializes in the treatment of, and research in, cardiology, oncology, organ transplant, and genetic diseases. more
Riyadh, Saudi Arabia
The capital city, population about 5 million and expanding into the surrounding desert at a rapid pace. Has extravagantly fanciful buildings, malls, and towers.
The social life for Westerners is enriched by events at the foreign embassies in the city. After people acclimatize to the heat, they play sports: golf, tennis, hockey, soccer, sand-board.
Saudi Arabia, population of almost 27 million, with mountains and the Red Sea on the west coast, the Arabian Gulf on the east coast, and the Empty Quarter in the middle.
Mecca and Medina, the two most holy cities in Islam, are located north of Jeddah. The country's majority religion is Sunni Islam. Common recreational activities pursued by Westerners: desert camping, swimming and diving in the Red Sea, running, tennis, hiking in the mountains. more