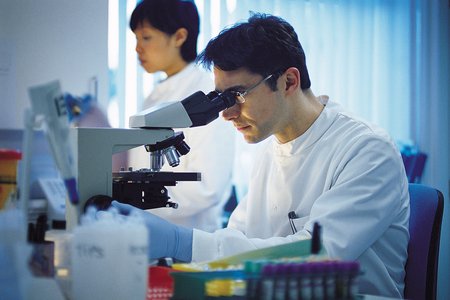 What is the research focus of King Faisal Specialist Hospital & Research Center - Riyadh?
The King Faisal Specialist Hospital & Research Centre has five main research areas: cancer, genetics, cardiovascular diseases, environmental health, and infectious diseases.
The research centre is staffed by more than 300 research scientists, clinicians, postdoctoral fellows, and technicians, who work in the following departments:
Biological and Medical Research
This department is comprised of 14 research units and two core facilities (Bioanalytical/Toxicological Reference Laboratories and Core Facilities), and departmental research activities focus on allergy and aerobiology, breast cancer, carcinogenesis, cell biology, coagulation, DNA repair and apoptosis, experimental molecular pathology, histocompatibility and immunogenetics, tumor immunology, interferon and cytokines, laser medicine, molecular oncology, molecular virology and infectious diseases, pharmacology, proteomics, confocal microscopy, flow cytometry, tissue bank, environmental health, and pharmacokinetics and therapeutic drug monitoring.

Stem Cell Therapy Program
"Stem Cell Therapy Program (SCTP) at the Research Centre focuses on researching the cellular and molecular mechanisms of stem cells and stem cell applications in the treatment of a number of chronic diseases including cardiovascular diseases, neuro-degenerative diseases & spinal cord injuries, liver diseases, kidney diseases, diabetes, autoimmune diseases, and cancer."

BioMolecular Research Program "Although the Program in BioMolecular Research is one of the smallest department/section in the Research Center, it gained both national and international recognition. The program focuses on a medically important family of genes that code for what are called AU-rich messenger RNAs (mRNAs). These code for many proteins that are critical in maintaining healthy transient reactions during the body responses such as immune response and cellular growth. Disturbances in these transient processes may lead to unwanted prolonged responses and thus diseases, such as chronic inflammation and cancer. Thus, the program implements laboratory studies of this area in different disease conditions and pinpoint pathways that can be targeted for therapy."

Comparative Medicine "The Department of Comparative of Medicine assists the research activities of the Research Centre by providing animals, veterinary care, and offering array of technical services and expertise. Most animals' species are available from rodents to primates. Staff is constituted of veterinarians, scientists and technicians. The current research activities conducted by in-house staff and outside faculty include: heatstroke, infectious diseases, cardiovascular and neurosciences. In addition, the department offers courses and participates in teaching experimental surgery with other departments (Neurosciences, General Surgery, Obstetric Gynecology, Urology), as well as animal use for research."

Genetics "The genetics department conducts basic, as well as clinically applicable research pertinent to the molecular medicine in Saudi Arabia. ...Our mission is to preventing death and neurological crippling by early diagnostic screening techniques as applied to all neonates in the kingdom. Providing premarital and pre-implantation diagnosis in diseases that have poor outcome. Mapping and identifying genes underlying monogenic and polygenic diseases such as diabetes. Establishing basic research of gene transfer-based therapies as based through stem cell research. Develop novel strategies for the efficient and safe delivery of therapeutic genes into a target tissue to treat debilitating diseases such as cancer. Study of the hereditary Basis for difference in population responses to medicines. Establishing an extensive genetic data base program that will collect information for the occurrence of genetic diseases kingdom wide. Establishing a section in population genetics to study the genetic polymorphism of various ethnic groups in the kingdom. to educate the general and medical public for the ongoing activities and their relevance to the patients in the Kingdom."

Cyclotron & Radiopharmaceuticals "Cyclotron and Radiopharmaceuticals Department (C&RD) is a state-of-the art facility for two primary activities: Radiopharmaceuticals manufacturing; and Radioisotope research."

Biostatistics Epidemiology & Scientific Computing "Our mission is to enable and facilitate biomedical research by defining mathematical formulations of research problems, carrying out statistical analyses of research data, providing research computing facilities, and educating researchers in all aspects of quantitative methodologies needed for biomedical research endeavors."

Biomedical Physics "Our mission is to seek, apply, and disseminate concepts and methods for effective and safe use of radiation in diagnosis and treatment of human diseases, and to continue improving and expanding such use through clinical research activities. We are committed to providing high quality physics support for the application of ionizing and non-ionizing radiation in clinical services to ensure the best health care possible for our patients. ..."

Human Cancer Genomic Research "The mission of the Human Cancer Genomic Research (HCGR) is to conduct translational research on cancers that are more prevalent in the Kingdom of Saudi Arabia. ..."

Centre for Clinical Studies and Empirical Ethics "The Centre for Clinical Studies and Empirical Ethics (CCSEE), established as the Centre for Clinical Research in 2003, has been charged with conducting bioavailability/bioequivalence studies and educating clinical research professionals. Recently, the CCSEE was also charged to conduct clinical and empirical ethics studies."
Scientists at the research centre supervise a number of Saudis who are undertaking their PhD and MSc studies.
The research centre participates in joint projects with international centers in the United States, United Kingdom, France, Germany, Japan, Morocco, Canada, and Australia. During the past six years, almost 800 research papers have been published.
Most Popular