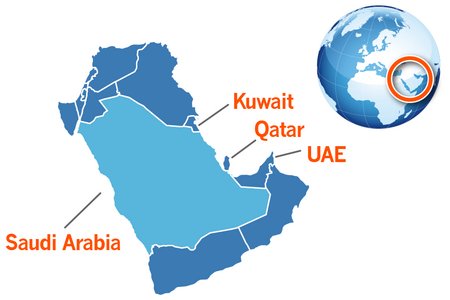 Jump to Questions On:
Contract and Benefits
How long are the employment contracts?
Contracts are typically 1- or 2-years in duration and are renewable on-site.
Can I bring my family?
Only senior administrative (e.g., Director/Head of a Clinical or Non-Clinical Department) and physician contracts provide married-status contracts, which offer family members accommodations, travel, and health benefits.
On a single-status contract, accommodations, air tickets, and medical coverage are provided for the employee only.
Can I bring a pet?
People on single-status contracts who are in shared accommodations cannot bring any pets. People on married-status contracts who are not in shared housing may be able to bring a pet, depending on the rules of the housing complex, and depending on the type of animal, but the couple would be responsible for all expenses and arrangements for its transportation to Saudi Arabia and any damages the pet may cause. See our article for more information.
Where will I live?
Most expatriate staff live in housing on the hospital grounds, or in a private housing complex (commonly called a "compound"). A compound is an area of private property that is similar to a gated community. The sizes of compounds vary. Some will have only the residential facilities, while others will have pools, fitness facilities, tennis courts, salons, and grocery stores. Like a gated community, you're free to come and go as you please (bear in mind, however, that some compounds have late-night curfews). People leave the compound to work, shop, visit friends who live on other compounds, attend cultural events (e.g., concerts at embassies), dine out, go sightseeing, etc.
What is provided in my apartment/house?
Cutlery, dishes, pots, pans, a kettle, and toaster come with the apartment, as do basic appliances such as a fridge and stove. Depending on your accommodations, washers and dryers are either in the individual apartment unit or in a communal laundry room (there is no charge). Utilities are included, and basic TV channels are included. If you want more channels you can purchase satellite packages that include stations such as ESPN, CNN, BBC, the Movie Channel, etc. Long distance phone calls are not included. Many people view online or download their favourite shows via networks or other services.
Do I have to share my apartment/house?
Physicians and most senior administrative positions are entitled to non-shared housing. All other contracts usually receive shared accommodations, with one or (rarely) two other housemates.
How much vacation am I entitled to?
Vacations are calculated as "calendar days." Depending on the employer, you will usually have between 40 and 58 calendar days of vacation per year (e.g., April 1st to 14th is considered to be 14 calendar days of vacation).
When will I be able to take a vacation, and for how long can I go away?
You will not be able to take vacation for the first three months of your contract, as this is your probationary period. After this time, you will be able to make vacation arrangements with your supervisors at the hospital, as you would in any workplace. Helen Ziegler and Associates, Inc. cannot guarantee you vacation time for any particular dates, or for any length of time.
Can I leave the Kingdom on vacation whenever I want?
While you are waiting to receive your residency permit (igama), which usually takes between 2 and 4 weeks (but can sometimes take months), you may not leave the country. Also, the first three months of employment is a probationary period, during which you will not be able to take any accrued leave/vacation days. After you obtain your residency permit (igama), you will be able to leave and re-enter the country for a short trip that doesn't use leave days, e.g., for a weekend trip the UAE. You will need an exit/re-entry visa to come and go; these can be purchased individually or as a multiple.
What kind of healthcare coverage am I entitled to?
The hospital will provide any medical treatment and emergency dental procedures you require. In most cases, you will not be covered for basic dental care. Also, if you leave the city to go on vacation or for a day trip, you will not be covered for any medical treatment. Thus, it is a good idea to purchase travel health insurance, when you leave the city in which you are employed, even if it is to travel within Saudi Arabia.
I take prescription medication. Can I get it there, or should I bring it with me?
You can get prescription medication in Saudi Arabia (which is covered by your health coverage), but you may not be able to get a specific brand name. You can ask in advance if the brand is available. Or, if you prefer a specific brand, you may bring a supply that will last you several months. Please bring prescriptions in the original container. The label must clearly state your name and the name of the medication (this is especially important when you are carrying medication on the airplane).
Who pays for my flight?
Relocation and repatriation airfare are typically provided by the employer. Helen Ziegler and Associates, Inc., works with the hospital to arrange your flight from your point-of-hire to the city where you will be working.
If I book my own flight, will the hospital pay me back for it?
No. Nor, for logistical reasons, can the hospital honor requests to fly specific airlines, or accommodate requests for additional or extended stops on your way to Saudi Arabia.
What does "tax-free income" mean?
There is no income tax deducted in Saudi Arabia. However, your foreign income may be taxed in your home country:
Americans are excluded from paying taxes on any amount up to US$112,000 (tax year 2022) if the person was out of the country for at least 330 full days out of 365 days of a consecutive 12-month period. Exclusion amounts are subject to change, so please refer to: Internal Revenue Service; especially see "Publication 54."
Canadians have a more complicated situation which involves severing residential ties to Canada (e.g., spouse, dependent children, non-investment property, etc.). For information, please refer to: Canada Revenue Agency's page on Non-Residents of Canada
What is the currency in Saudi Arabia?
The currency in Saudi Arabia is the Saudi Riyal (also spelled Rial), commonly referred to as the "SR." The SR has been fixed at a stable rate to the US dollar since the early 1980s, with the rate being: US$1 = SR3.75.
How am I paid?
You are paid monthly, in Saudi Riyals, by direct deposit into a local bank, located either on the hospital site or within easy walking distance.
How easy is it to open a bank account?
The hospital will help you open a bank account soon after you arrive and after your Igama (permanent residency visa) has been issued. While safe, money in this account, will not earn interest, so you should transfer your money to an account outside Saudi Arabia to earn interest. (Islamic law prohibits earning interest on money; Islamic banking, however, provides another method for making your money work for you without violating Islamic law.)
What should I do with my money then?
Since no interest is paid on accounts in Saudi Arabia, most people keep only basic spending money in their Saudi bank account. Instead, people transfer most of their savings to offshore accounts through e-transfers, wire transfers, bank drafts, or whatever is possible through one's home bank. Internet banking is common.
Can I use credit cards in Saudi Arabia?
Saudi Arabia is generally a cash society, but credit cards are accepted in major department stores, chain hotels, and major hotel restaurants. Generally, other outdoor souks do not accept credit cards. Occasionally machines have trouble with "chip cards."
What religions are practiced in Saudi Arabia?
Islam is the official religion of Saudi Arabia. Prayer call occurs five times per day and during this period, shops and restaurants close for about 20 minutes to allow workers to pray. Many expatriates living in Riyadh are from Muslim countries. Although there are also many non-Muslim expatriates (e.g., Christians, Hindus), there are no churches or houses of worship of other faiths in the Kingdom.
How should I dress when I am in Saudi Arabia?
Men: All clothing worn in public areas (e.g., outside the hospital grounds and housing complexes) should be conservative. This means no sleeveless shirts, no shorts, etc., in public (sportswear can be worn at men-only fitness facilities) and in private areas. In public areas, jewelry should be limited to a wedding ring and a watch.
Women: Although many women still choose to wear an abaya (a black, lightweight cloak that drapes over your clothing), it is no longer required. An abaya is usually sold with a matching scarf as a set; and while originally they had to be black, they are now seen in many colours, and may have embroidery, applique, coloured inlays, etc. on them. Abayas (and scarves) can be purchased online, and can be bought throughout Saudi Arabia. Western-only private beaches and pools are available, where, of course, bathing suits can be worn. Sportswear can be worn at women-only fitness facilities. Women can wear abundant jewelry. Any type of shoe (e.g., sandals, flip-flops) can be worn publicly. And at home, you can wear whatever you wish. And under your abaya you can wear whatever you wish.

I have tattoos/facial piercings/body piercings. Is this a problem?
Tattoos must be covered.
Piercings in non-traditional locations (e.g., the eyebrow, lips) may be frowned upon.
I do not want to appear culturally insensitive. Other than dress, is there anything else I should be aware of?
Definitely do not take pictures of any government buildings or palaces. Do not photograph Saudi adults or children without permission. During Ramadan Ramadan (the annual month of fasting), don't eat, drink, smoke, or chew gum in public places during daylight hours. Women should not offer to shake hands unless, of course, the hand of the other person is offered first.
Will I be safe in Saudi Arabia?
There is relatively little crime in Saudi Arabia. The level of violence is far less than one would find in a city of comparable size in the United States or Canada, and the security level is high. We are in regular contact with Westerners, and generally, Western people say they feel safe.
Should I register with my country's embassy or consulate in Saudi Arabia?
When traveling abroad one should always register with one's embassy or consulate. Riyadh is home to all of the government ministries and foreign embassies, including those of the United States and Canada. Jeddah is the site of many consulates, including those of the United States and Canada. You can also register in advance of going overseas:
Americans: See the State Department's STEP (Smart Traveler Enrollment Program) Program page
Canadians: See the Government of Canada's Registration of Canadians Abroad page
What if I feel that I need to leave due to the international situation?
Following 9/11, the vast majority of employees decided to stay and "wait it out." Those who decided to leave had their airfare paid and they were offered the opportunity to return in the future. Also, each staff member has access to a volunteer embassy "warden" who is in direct contact with their embassy, and provides regular updates on the international situation and their government's recommended response.
Where can I get additional information about travelling abroad?
Canadians can review Global Affairs Canada's website. This is a useful site, providing a variety of information (in English and French) for Canadians planning to go abroad. Some information includes: passports; travel reports; consular services; regional characteristics.
Americans can review the The Department of State website. This site provides information for Americans planning to go abroad, such as: passports; travel and health reports; consular services; regional characteristics; currency exchange.
Does Saudi Arabia allow tourists to enter the country?
Saudi Arabia has recently introduced the eVisa that allows tourism.

The visa can be applied for online, and takes a couple of weeks to receive.
The cost is approximately SR440 (US$117), and is open to citizens of Western countries and some other countries, including the USA, Canada, the UK, Western European countries, Australia, New Zealand, etc.
Is Saudi Arabia expensive to live in?
Some brand names and imports can be expensive, compared to the prices at home (where they may not be imports!).

Going to Medina? See our article Costs in Medina, Saudi Arabia - Shopping for the Basics.
Do I have to wear a burqa?
Women in Saudi Arabia do not wear burqas. And they also no longer have to wear an abaya - although many women continue to wear them. An abaya a cloak, formerly only black, but now available in an array of colours and styles, that drapes over one's clothing (from the shoulders down). The abaya can have designs, e.g., embroidery, applique, sequins, coloured segments, etc. (We saw some really stylish abayas when we visited in late 2017!)
As a woman, can I leave the housing complex by myself?
Of course! There is no requirement for women to travel in groups.
Can I wear sandals in Saudi Arabia?
Yes: In fact you will see sandals (mostly high-heeled) and flip-flops that are every bit as simple or elaborate as any you will see at home or in fashion magazines. (However, because the asphalt can become so hot in the summer, you may want to keep the cheap flip-flops for wear in cooler months or for around the house, lest they begin to melt ... or at least deteriorate quickly!)
Do hair stylists know how to style the hair of African Americans?
Not all of them can, but your African American and African colleagues can point you towards those who can!
What is the shopping like?
The shopping malls house all the international boutiques (with their Prada, Gucci, Yves St. Laurent, Boss, etc., designs), as well as larger stores which sell less costly clothes (e.g., GAP, H&M, American Eagle, Zara), and US and European chain department stores (e.g., Saks Fifth Avenue, Debenhams, Harvey Nichols, Marks & Spencer). But if you like to shop, in my view, the most interesting purchases are in the souqs, with their traditional hats, scarves, camel blankets, rugs, brass works, etc.
Can I try on clothes in shops?
This is a surprisingly tricky question. In the women's-only malls, such as the "Ladies' Kingdom" at the Kingdom Centre Mall in Riyadh, women can try on clothes. In other malls, since most sales clerks are males, if one wants to try on a garment, one must first purchase the garment, then take it to the restrooms, which have toilet sections and change room sections, and try on the garment. If it doesn't fit, return it — if it does, you're lucky!
Can I buy underwear?
Although you can buy all styles of women's underwear, if you have a favourite brand/style, I would stock up before relocating. Most people feel that cotton is the most comfortable fabric for the hot climate.
Only in the last decade has Saudi Arabia been allowing female sales clerks in lingerie shops (women had, of course, been the clerks in women's-only malls). The lingerie shops are now designated "families only" or "women only" — no unaccompanied men allowed. Before the advent of female sales clerks, lingerie shopping could be a challenge, because few women were comfortable discussing things such as their cup size with men ...
Can I wear a two-piece bathing suit?
Yes, if you are swimming in the women's-only pool of your compound. But if you are swimming in one of the coastal waters in which men and women of all nationalities swim, a conservative one-piece is best.
Can I wear makeup?
Yes. The Arab women (Saudi women included) are very skilled in the art of applying makeup. Even if you see only the eyes, they are dramatically shadowed and otherwise elaborately enhanced, and their eyebrows waxed into precise shapes.
Can I buy tampons?
Yes, they can be found in some pharmacies or grocery store personal care product aisles. But the selection is not as good as at home, and the supply often disappears quickly.

Can I wear jewelry?
Very definitely. In fact, one of your main recreational pursuits may be shopping for gold in the souqs.
Can I bring workout DVDs?
Yes, but be careful of the covers. If the cover images are of scantily-clad (from a conservative society's perspective) women/men working out, take the discs out of the cases, and put them in a plain sleeve, accordion-style case, etc.
Can I get spa treatments?
Absolutely! You can get enormously varied range of treatments, including massages, facials, manicures, and pedicures. (And it's typically cheaper than back home.)
What kinds of clothes should I pack?
The two things to keep in mind are 1) Saudi Arabia is a more conservative society, and 2) for most of the year it's very, very hot.
So besides buying an abaya and scarf (as noted above), you really don't need to change your wardrobe much (unless it happens to be stocked with flannels and fleece).
Surprised? Don't be. You will attend parties and embassy concerts and events, which require the same sort of clothing you'd wear to such events back home, e.g., a cocktail dress. You will hang around by your pool and you will work out, so you will need a bathing suit and gym gear. And because in public (e.g., malls, souqs, restaurants) you will be wearing your abaya, you can wear whatever you want underneath it.
But to deal with the heat (and in Jeddah, the humidity), you may want to add a few lighter garments to your regular clothing collection — perhaps some "wicking" or fast-drying tops or pants, or perhaps a long skirt to let the air circulate around your legs. And you may want to throw in a few longer sweaters or jackets both to help you deal with the omnipresent air conditioning and for conservative cover-up of your hip region. But you don't need to buy a new wardrobe ... unless, of course, you want to.
Can I drive a car in Saudi Arabia?
From late June 2018, both females and males (with valid driver's licenses) can drive.
You cannot rent, lease, or purchase a car until you have your igama (residency permit).
If you don't want to drive, there are free shuttle buses to and from your residence to common shopping destinations in the city.
Also, taxis are readily available, and apps such as Uber and Kareem are popular, and have a reputation for being safe.

For more information ...
Things are changing in Saudi Arabia, as the country aims to attract tourists and entertain them, and their own citizens: Read about one recent arrival's experience in My First 3 Months in Riyadh - a Photo Journal by Rhi R
How is the healthcare system in KSA organized?
The healthcare system in Saudi Arabia is roughly similar to the American system. Military hospitals treat members of the armed forces and their families. University teaching hospitals treat the general public. Ministry of Health hospital and tertiary-care referral hospitals treat the general public. Private hospitals treat either specific populations or are strictly for-profit. Saudi Arabia is also actively involved in medical research.
What is the official business week in Saudi Arabia?
Until late June 2013, the weekend was Thursday and Friday. However, a royal decree from June 2013 announced the weekend would be changed to Friday and Saturday, to bring it in line with the other Gulf countries.
Who are the patients at my hospital?
The patients are Saudi nationals, expatriates, and Saudi hospital staff and their dependents. You will see all types of patients including heart disease, common cancers, and interesting genetic diseases.
Who are my coworkers?
Your coworkers will be healthcare professionals and support staff from Saudi Arabia and countries around the world: Canada, the United States, the United Kingdom, Europe, Australia, New Zealand, Egypt, Jordan, the Philippines, Sudan, Somalia, South Africa, etc.
What language is spoken at the hospital?
Although English is the working language at the hospital, your colleagues come from all over the world, so English may be a second language to many of them. Some patients may speak English, but many speak only Arabic; translators will be available. Hospitals also offer free courses in basic Arabic.
Will my uniform be provided for me?
Yes. At the King Faisal Specialist Hospital & Research Centre, for example, nurses get four sets of white (Riyadh) or blue (Jeddah) scrubs and two jackets; respiratory therapists are issued green scrubs.
If I do not wear a uniform, how should I dress at work?
If you do not wear a uniform the dress is professional clothing (sometimes covered by a lab coat).

Can I wear open-toed shoes at work?
No, closed-toe shoes are required. Most people wear gym shoes.

Am I entitled to overtime pay?
Although your contract will state that overtime is paid at 1.5, Saudi Labour Law counts your days off as paid days. Therefore, for practical purposes, the overtime rate is approximately 1.2.
Will I get an orientation?
All new employees typically attend a hospital and department-specific orientation for 1-2 weeks upon arrival. Staff nurses will typically be assigned a preceptor on the unit.
What is the social life like?
Like anywhere else, the social life in Saudi Arabia is what you make of it. There are organized trips to historical sites, sports competitions, and other recreational activities. Dinner parties, desert trips, and beach parties are common. There are concerts at embassies and expatriate-operated amateur theater and musical ensembles. See our video or article about social life opportunities.
Where will my new friends and colleagues be from?
The expatriate community in Saudi Arabia is made up of citizens from around the world: Americans, Canadians, Australians, British, German, Irish, Egyptians, Indians, Pakistanis, Sri Lankans, Bangladeshis, Filipinos, Malaysians, South Africans, etc.
In 2020, the CIA World Factbook estimated Saudi Arabia's population to be 34 million, of which around 38% are expatriates.
What types of sports are available?
There are endless opportunities to get and stay fit. There are organized athletic events, such as tennis, ball hockey, running, rugby, and soccer. There are also marathons and desert camping. Fitness clubs are available but can be costly, so most people stick with the pool facilities, gyms, and tennis courts commonly available on the hospital grounds or in housing complexes. There are grass and sand golf courses, such as at the Intercontinental Hotel (where both men and women play).
Is drinking alcohol legal in Saudi Arabia?
Alcohol and products containing alcohol are strictly prohibited by law. (This includes liqueur chocolates!) Bringing them into the country, and/or purchasing or drinking alcohol is prohibited in Saudi Arabia.
Is smoking cigarettes legal in Saudi Arabia?
Smoking is legal in Saudi Arabia, but women cannot smoke in public.
Are there any types of books, CDs, or DVDs that are illegal in Saudi Arabia?
Do not bring books which are critical of Saudi Arabia or which are politically controversial into the country. Pornography is strictly prohibited. Travel guides about Saudi Arabia are completely acceptable. If your books have covers or pictures that may be offensive, remove them. DVDs may be checked at customs.
Is English-language reading material available?
There main English papers are Arab News and Saudi Gazette. There are several English-language bookstores, but the stock can vary. There are book-sharing clubs among expats and small libraries at the hospital. Books can also be ordered online from websites such as Amazon.com. An eReader, such as Kindle, is also an option.
What is the food like?
Saudi Arabia allows expatriates to go on a culinary world tour. In addition to sampling authentic Middle Eastern cuisine (such as tabouleh, hummus, pita, baba ghanoush, etc.), there is Italian, French, Chinese, Japanese, Thai, Filipino, Mexican, Turkish, and Indian. For a taste of "home," the standard American chains such as McDonald's, Pizza Hut, Dunkin' Donuts, and Dairy Queen are available. Many of the foods in the supermarket will be familiar to you, from ketchup to Twinkies to skim milk. Although produce is readily available at supermarkets, fruit and vegetable souqs (markets) also provide excellent fresh produce. Alcohol and pork products are not permitted.
What is available in the stores?
Most things that are available in North America are available in Saudi Arabia, with the exception of items that are prohibited, such as alcohol, pornography, and pork products.
Pharmacies are open at convenient times, and many pharmaceuticals can be obtained over the counter.
High-end designer clothing and sportswear items are easy to find, but you can't always try them on! The country also has many good tailors who can make items for you.
It can be difficult to find bathing suits — even more so when there is a chance you might not be able to try it on — so bring a couple from home.
Electronics stores abound, selling the latest in computer, audio, and video equipment. Videos and DVDs are also available, but many of these will have been censored.
Jewelry shopping in the gold souqs is so popular with expatriates that most leave Saudi Arabia with a sizeable gold collection.
What languages are spoken in Riyadh, Jeddah, Jubail, Dhahran, etc.?
The official language is Arabic. English is commonly spoken, and Hindi, Urdu, and Tagalog are also spoken by many of the expatriates who live there. English is the language of operation of all hospitals and translators are available for communicating with patients who do not speak English.
What is the weather like in Saudi Arabia?
Saudi Arabia is a desert country with, believe it or not, a wide range of temperatures.
Riyadh, which is in the centre of the Kingdom and set in the middle of the desert sees the greatest temperature differences with an average low of 8C-21C (46F-70F) in the winter and an average high of 42C (108F) in the summer.
Jeddah is slightly cooler than Riyadh but also more humid thanks to its location along the Red Sea. Jeddah sees an average low of 18C-29C (64F-84F) in the winter and an average high of 37C (99F) in the summer.
When you leave the city on your camping/hiking/touring adventures, be sure to bring a heavy sweater. The desert can actually get quite chilly at night.
Most Popular